Friends of the St. Clair River periodically highlights guest editorial pieces. The content contained in guest articles does not reflect the opinions of Friends of the St. Clair River.
Opinion-Editorial
By: Sheila Chaps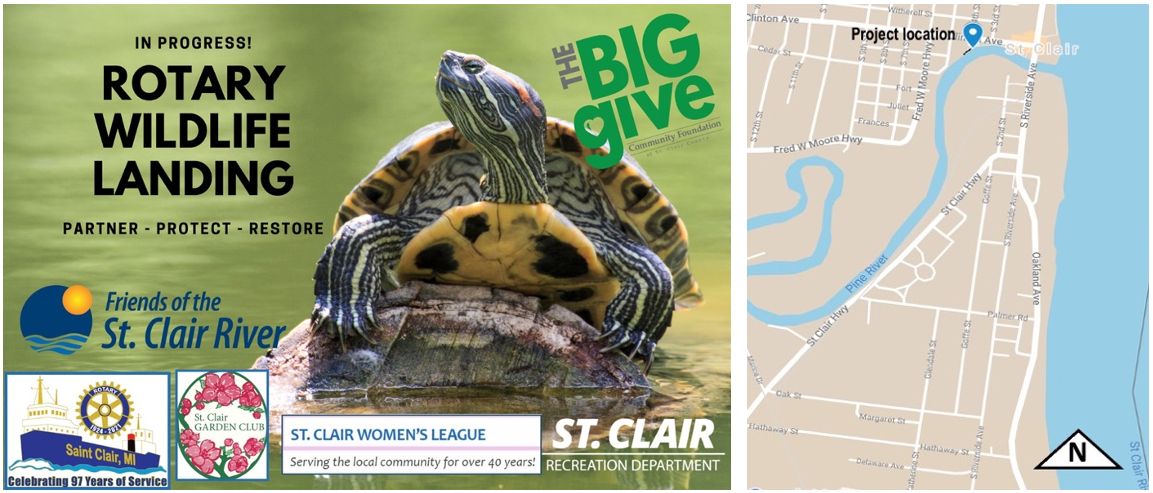 In keeping with our community's history of collaboration and partnerships working in common purpose to promote healthy rivers and enhance green spaces, the City of St. Clair and St. Clair Rotary Club have embarked on a project to repair and restore an eroded portion of the Pine River shoreline located on the west bank near the floating docks and fishing pier and across the river from the St. Clair Boat Harbor. The site is at the west end of Rotary Park on Clinton Ave. in downtown St. Clair. The mosaic sculpture of "Wally" the Walleye is a landmark.
With destructive high waters, the area has become overgrown, essential natural plant life eliminated, and the coastline habitat degraded by invasive species. Friends of the St. Clair River (Friends) was consulted to determine how this space could be restored to thriving native biodiversity. Friends staff met with project partners to propose landscaping that would support aquatic life, protect the shoreline and plantings, utilize appropriate native plant species of many textures and hues, host butterflies and other wildlife, and be welcoming to boaters and tourists. The proposal was enthusiastically received, and funding has been secured.
The project includes collaboration and teamwork from a number of organizations seeking to restore and protect this stretch of shoreline to welcome visitors and sustain wildlife. We are grateful to be partnering with the St. Clair Rotary Club, The City of St. Clair, The St. Clair Garden Club, the St. Clair Woman's League, with consulting by Friends of the St. Clair River and site preparation and construction by St. Clair Landscaping. Site preparation and shoreline stabilization work will begin as schedules and planting seasons allow. We'll keep you abreast of progress as each step evolves in this exciting endeavor.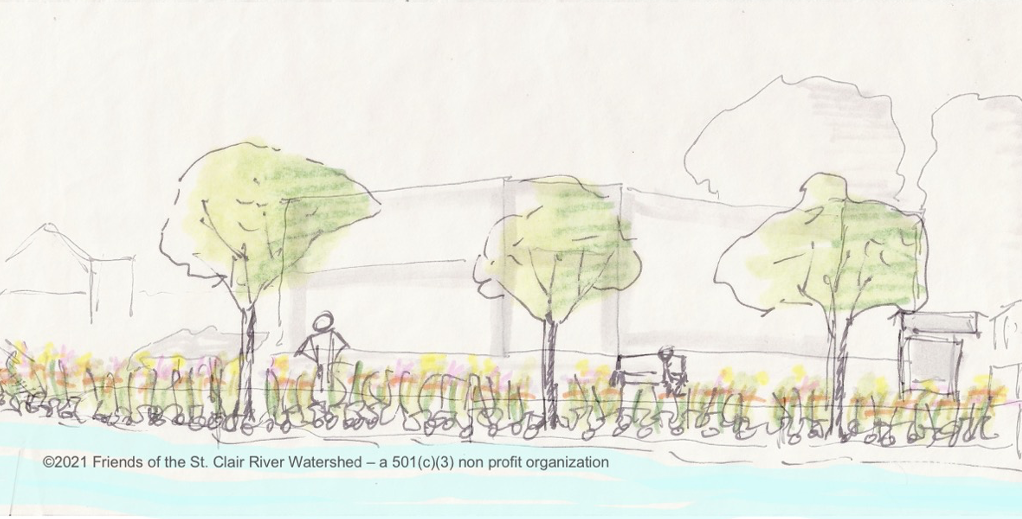 Sheila volunteers with Friends of the St. Clair River, St. Clair Garden Club and Michigan Butterfly Network. She lives on the St. Clair River and is a boater and member of the Antique and Classic Boat Society. Sheila is passionate about the quality, preservation, and protection of Michigan waterways and shorelines.