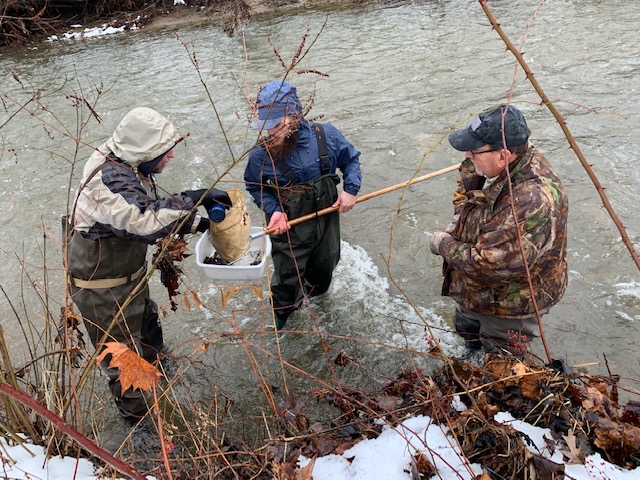 On a misty winter morning, Friends of the St. Clair River President, Sheri Faust and I set out in search of winter stoneflies alongside Clinton River Watershed Council staff. For nearly a decade, volunteers have gathered each January for this annual event. The event has grown from a handful of volunteers at one site to over 100 volunteers monitoring 12 sites.
In years past volunteers have had to break up the ice to access the water, but this year the Upper Branch of the Clinton River is flowing high and fast. Volunteers in waders, armed with D-nets step into the stream to collect samples from the rocky areas, leaf packs and undercut banks.
More volunteers on shore wait to retrieve the samples from the nets. After five minutes of scooping sediment from the river and placing it in buckets, volunteers on land begin picking through the rocks, leaves and twigs in the chilly waters of the sample buckets. Almost immediately, it's clear that this small sample is teeming with life. Macroinvertebrates can be seen wiggling through the water.
After carefully picking through the samples, our final count was well over 50 stoneflies representing two different species, plus several mayflies, caddisflies and even a water penny! All of these species are intolerant of pollution and their presence indicates a very healthy ecosystem!
So why do we look for stoneflies during the coldest part of winter? The two species we were looking for have adapted to being active during cold weather when there is still plenty of leafy debris for them to forage on and very few active predators. They often emerge as adults when there is still snow on the ground! Special compounds in their bodies, like glycerol, proteins and sugars act as antifreeze and allow them to survive the winter. The data we collected helps the Clinton Winter Watershed Council monitor changes in the watershed and make suggestions for future watershed management plans.
Are you interested in learning more about stoneflies and helping to bring this monitoring project to St. Clair County? Join us on February 24th at 6:30pm in the Dodge Auditorium at the St. Clair County Administration Building. Eric Deising from the Clinton River Watershed Council will share information about stoneflies and the history of the monitoring program.