Have you ever wondered about what goes on under the ice? Aquatic focused field work and research is largely done in the summer or in warm climates for several reasons, such as weather, limitations of equipment, and accessibility to the water due to ice cover. However, this means that there is a lot to learn about what is happening under the ice. As a recent graduate of Michigan Technological University, I had the opportunity to participate in a research lab studying the microscopic elements of what goes on under the ice. In Dr. Trista Vick-Majors lab, I had the opportunity to assist in aquatic microbiology research ranging from the cold shores of Lake Superior to the untouched waters of subglacial lakes in Antarctica.
There are three main goals of the research in Dr. Vick-Majors lab1:
Quantifying the impacts of ice-cover on the pathways by which a chemical substance cycles through the environment, also known as biogeological processes.
Determining how ice-cover formation, changes in ice-cover, and life under ice affect energy for microbially fueled elemental cycles.
Understanding linkages between hydrology and microbial communities, especially as related to environmental change.
Simply put, how does extremely cold climates affect aquatic microbiology? These goals focus on topics that haven't been largely studied before, which is part of why I was so excited to be involved in these projects.
            One of my main duties in the lab was assisting in field work, which meant taking water samples in below freezing temperatures. From those water samples we would study many different elements, such as chlorophyll concentration, community composition by DNA, and photosynthetic primary production. Every other Saturday during the winter and spring months, our team would meet in the lab before sunrise (which ended up being around 5:30-6:00am) to start prepping for collection. It was important we started before sunrise because one of our graduate student researchers was studying how ice-cover affects photosynthetic primary production, which is the rate algae photosynthesizes. To study this, bottled samples, some of which contained radioisotopes, had to be put under the ice before sunrise and collected after sunset to get the full effects of the daylight.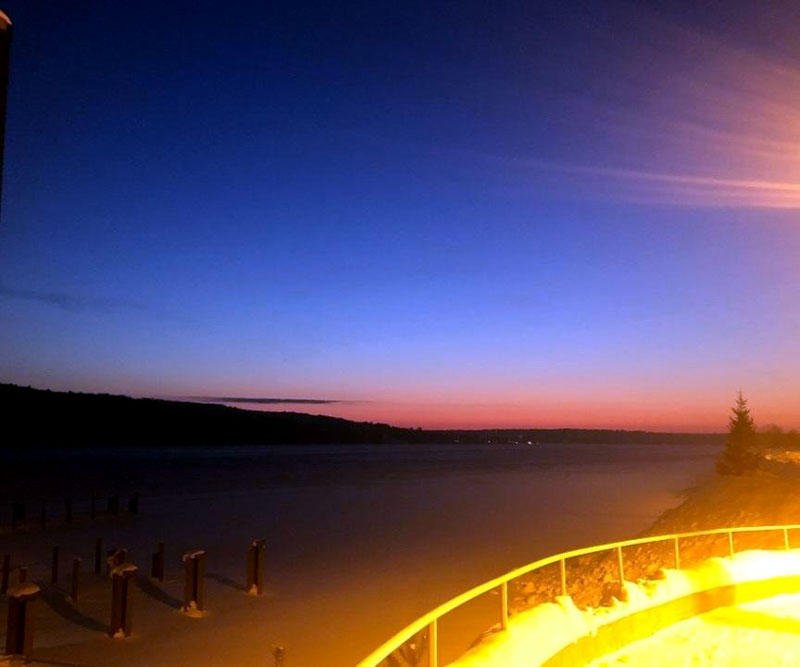 Samples were collected in Houghton off a dock in the Portage Canal, which is connected to Lake Superior. We would clear a section of ice near the dock to access the water below, and put a hose connected to a pump down a meter underwater to collect our samples. In total, we would collect about three liters of water to gather samples for all the factors we were testing for. We would then send probes down one meter under to measure temperature, conductivity, and dissolved oxygen content of the water at that time. Once that was recorded, one brave volunteer would measure the thickness of the ice sheet by sticking their hand in the water with a measuring tape. I certainly appreciated having my waterproof warm gloves when it was my turn! From there, we brought the samples inside to be prepared for analysis. Preparation was primarily done by vacuum filtering the samples and sorting them into individual vials and bottles for each test. Those vials and bottles would then be stored in the fridge or freezer for later analysis.
There were a lot of technical issues to work through at first, such as finding a pump strong enough to withstand the temperatures and water freezing in the hose as it was being pumped, but where there's a will there's a way! A stronger power source largely solved both of those issues, since the cold weather didn't drain the pump's battery as fast and a stronger pump meant the water was moving faster, therefore, less likely to freeze in the hose. Still, we had to have back up plans just in case there was another issue, so we'd bring out backup batteries and hoses as well.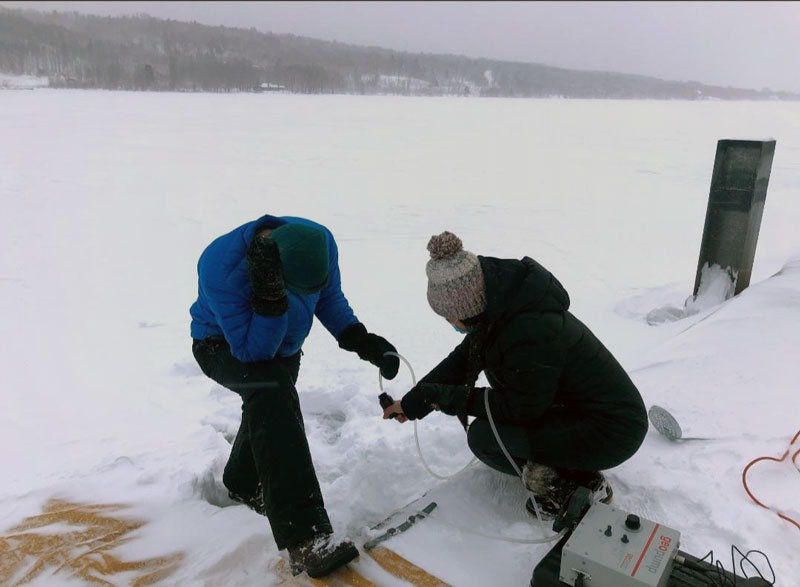 The sample analysis I was focused on is called bacterial enumeration, which is counting the number of bacteria present in a sample. Using the water we had collected, I would add chemicals to make all living things luminous under ultraviolet light and with that I prepared microscope slides of the sample. Once a few slides were made, I would take them to a dark room with a very high-powered microscope. It was important the room was dark because the chemicals added are very light sensitive, so working in the light would ruin the slide. The microscope allowed me to view the slides at high magnification under ultraviolet light so all the bacteria would glow bright green. There were so many bacteria cells in those samples it looked like the stars in the night sky. It was then up to me to count those hundreds of cells in each slide I made. The purpose was to see how many microbes were in a certain volume of water. What I found was a very large and diverse number of microbes, much more than we were expecting. From this we can infer that there is a lot more microbial activity happening under the ice than we had previously thought.
I was also involved in another project separate from our field work. This involved analyzing samples Dr. Vick-Majors had gathered from Lake Whillans and Mercer Lake as part of her work with Whillans Ice Stream Subglacial Access Research Drilling (WISSARD) and the Subglacial Antarctic Lakes Scientific Access (SALSA) Project. These projects were really fascinating to me because these lakes have never been touched by humans due to their subglacial location. The organisms in these lakes exist without light. The samples I worked with were some of the very first samples taken from subglacial lakes.
For this project, I again was performing bacterial enumeration, however, in a slightly different capacity. Microscope slides of these samples had already been prepared and I was working with photos of those slides. For each photo, I counted how many different shapes of cells I saw. I then ran the photos through a software program which highlights the glowing cells and measures the highlighted area so we can get the average size of the cells. Cell shape and size are important quantifications because they help provide a profile for the diversity of microbes present in these lakes.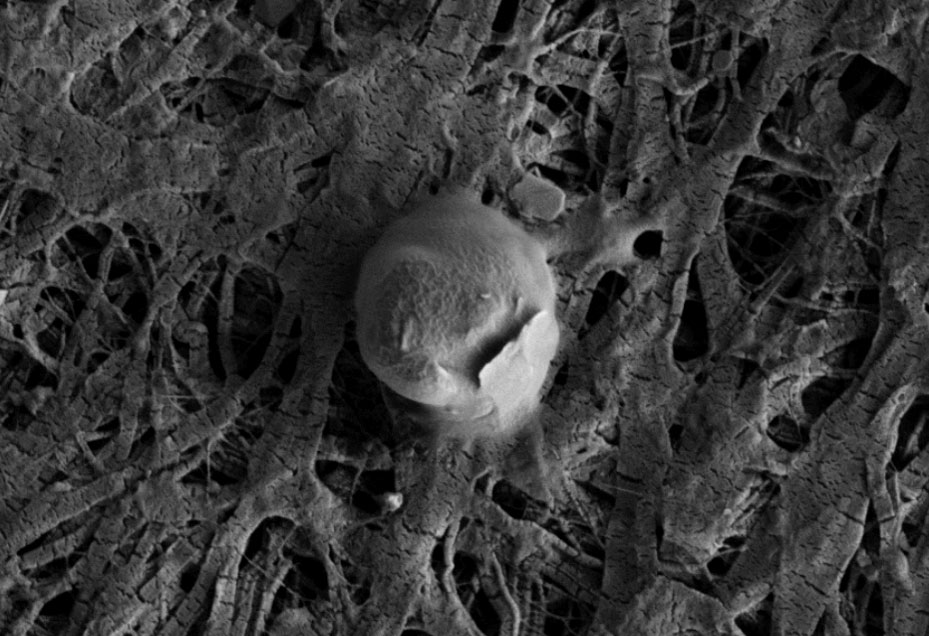 We were pleasantly surprised by the results of the diversity in these samples. Despite these lakes being isolated and untouched, the shapes and sizes of microbes were largely diverse within each lake as well as between the two lakes. This data was gathered to help further analyses of what species of bacteria exist in these lakes, as well as to help gain understanding how they can thrive in a place with no light.
There are still a lot of mysteries about what happens under the ice. In the end, my research is just the beginning of many new, exciting projects to discover more about life in extremely cold, dark waters. If there's one thing I learned from my studies, it's that there's a lot more happening in those waters than I ever expected. I hope this data helps researchers for years to come in understanding microbial processes under the ice, which will provide us a greater understanding of aquatic life under the ice as a whole.
Lydia is the Environmental Field Technician for Friends of the St. Clair River. They recently graduated from Michigan Tech with a bachelor's degree in Ecology and Evolutionary Biology and a minor in fish biology.
Research – Vick-Majors Lab http://www.whereverthereswater.org/research.html