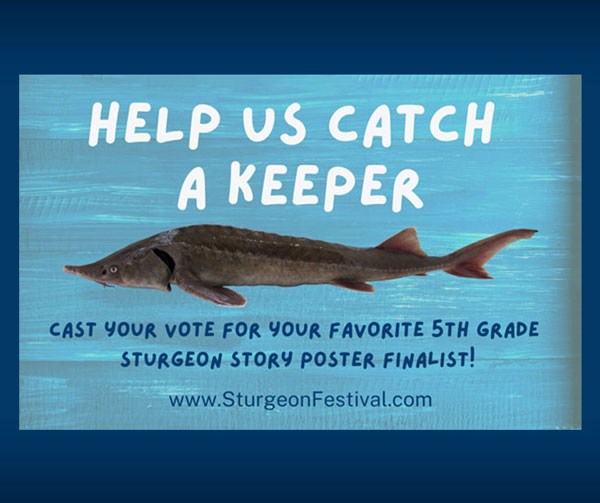 Help Us Catch A Keeper! 10th Anniversary Edition
For the past decade, students who participate in our Sturgeon Science School presentations have been challenged to submit an entry in our Sturgeon Art Contest that showcases their knowledge of the threatened Lake Sturgeon by means of art, song, or poetry. To celebrate the contest's tenth anniversary, we're awarding three grand-prize winners the rare opportunity to hand-release a baby sturgeon back into the wild during a special beachside ceremony on June 3 at Blue Water Sturgeon Festival! We've narrowed nearly 700 entries down to ten finalists and need your help selecting the three winners, who will also receive a prize package. Vote for your favorite Sturgeon Art piece by virtual donations or in person with pocket change during the festival from 10am to 1pm. Winners will be formally announced on stage at 2:00 pm. Winners do not need to be present to claim their prize package but need to be at the festival in order to release a sturgeon. Vote as often and as many times as you like!
Fill out the form below to vote for your favorite! Or if you prefer to vote in person with pocket change, the posters will be displayed at Blue Water Sturgeon Festival on June 3 from 10:00am - 2:00pm.
Funds raised from voting support our annual Sturgeon Science School program to provide hundreds of 5th grade students with a free lake sturgeon experiences in the classroom and aboard The Huron Lady. Thank you for your support of these 5th grade students and our educational programs!
Thank you to our talented and creative 2022 Sturgeon Story winners!