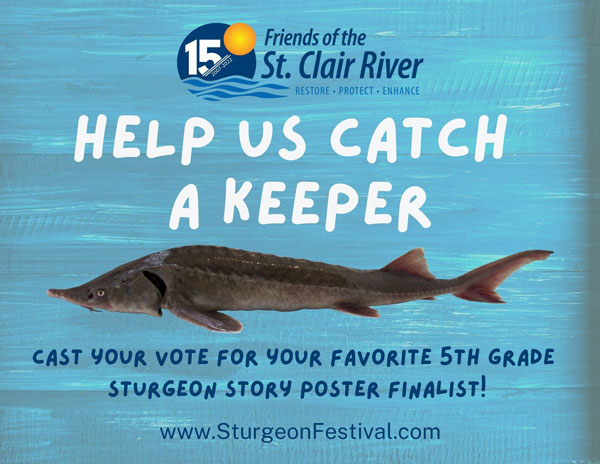 Sturgeon Story Contest – You Helped Us Catch a Keeper!
Over 300 entries were received from local 5th grade students that completed our Sturgeon Science School lessons. These posters showcase their knowledge of Lake Sturgeon conservation, and our judges narrowed them down to thirteen finalists based on their creativity, message, and educational content. The community then voted on the final three winners with virtual and in-person votes at the annual Blue Water Sturgeon Festival, raising over $1200 to be used to further our mission to provide free Sturgeon Science School for 5th graders across St. Clair County! Each of the three winners will receive a prize package and all finalists will be featured in our upcoming 2023 calendar. Since we launched Sturgeon Science School in 2012, over 1000 poster entries have been received from fifth graders sharing their Lake Sturgeon story through visual art, technical drawings and creative writing. Congratulations, Sturgeon Artists!
We're thrilled to announce the winners of our 9th annual Sturgeon Story Poster Contest!