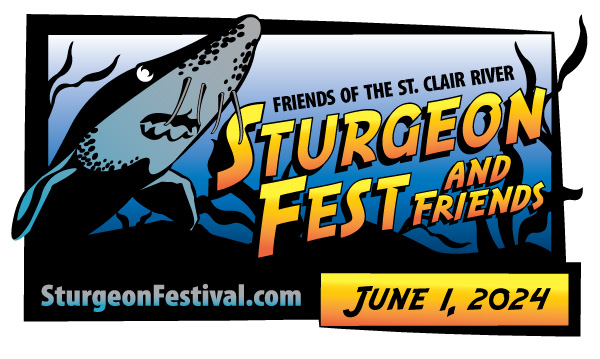 SAVE THE DATE! Sturgeon Fest 2024
Saturday, June 1 • 10am-3pm
Fort Gratiot Lighthouse Park, Port Huron
Huron Lady Sturgeon Cruise tickets (coming soon!)
---
Did you know fish six feet long and one hundred years old are swimming Lake Huron, the St. Clair River and Lake St. Clair? There are fewer Lake sturgeon today than a century ago because they're a threatened species, but of the sturgeon still roaming the Great Lakes, most of them are in the St. Clair River. Over 10,000 Lake Sturgeon call underneath the Blue Water Bridges home which makes it possible to see these gentle giants at our Blue Water Sturgeon Festival! 
Visitors can experience a close encounter with the Great Lakes' largest fish with a live sturgeon touch tank, hands-on activities, workshops, Native American drum ceremony, food, music and more. Festival parking, admission and activities are free.
Sturgeon Festival also offers an exclusive experience with these giants aboard Port Huron's premier sightseeing boat, The Huron Lady. Throughout this expertly narrated cruise, you can ask questions to the biologists who study Lake Sturgeon, learn about the latest Great Lakes sturgeon research, and watch live sturgeon research activities under the Blue Water Bridges. The Huron Lady Sturgeon Cruises are at 11am and 1pm, tickets are $30 and are available at www.huronlady.com. 
Affectionately known as the "Gentle Giant of the Great Lakes", Lake Sturgeon are phenomenal to see up close. They can weigh up to 150 pounds, grow over 7 feet, and live over 100 years. Once on the brink of extinction and added to Michigan's Threatened Species list, Lake Sturgeon are making a comeback and have become a spotlight species for the habitat restoration work completed in the St. Clair River. 
Since the Sturgeon Festival was hatched in 2014, Friends of the St. Clair River has been highlighting the fascinating story of this ancient fish - a mascot for the Great Lakes recovery. The Blue Water Sturgeon Festival is our largest annual fundraiser and funds raised during the festival support our education and conservation programs. 
EVENT CONSIDERATIONS
Lighthouse Park is smoke-free
Bring cash for food and merchandise, there is no ATM on-site
Lighthouse Climb tickets are $5 and can be purchased on-site from the Port Huron Museum
Lighthouse Park and Beach are open. The Lighthouse Beach parking lot charge is $5
Justin Chiotti, of U.S. Fish and Wildlife Service, takes us behind the scenes to show the collection process of lake sturgeon from the St. Clair River in Port Huron. The work of lake sturgeon conservation in the St. Clair River is very important. It extends beyond the borders of Michigan with the introduction of this threatened species into other Great Lakes. Sponsored by the Toledo Zoo and Aquarium.
Festival Activities

Huron Lady Sturgeon Cruise - 11am & 1pm, $$
Don't miss out on this rare Lake Sturgeon close encounter underneath the Blue Water Bridges! This 1.5 hour cruise takes guests on the St. Clair River and Lake Huron to interact with fisheries biologists catching, tagging and releasing Lake Sturgeon. Features include expert narration to learn about local Lake Sturgeon research. Meet at the Huron Lady dock 15 minutes prior to cruise time. Advanced ticket purchase required.

Live Sturgeon Touch Tank - All day, Lighthouse Beach
It's a LIVE sturgeon encounter! Get up close and touch a lake sturgeon! Meet the DNR and U.S. Fish & Wildlife Service biologists leading the research on Great Lakes lake sturgeon.

Sturgeon Story Contest - Voting closes at 2pm, Winners announced at 2:30
Vote for your favorite student artwork using pocket change! A dozen 5th grade student finalists were selected from hundreds of posters from across St. Clair County. It's up to the community to select the top three winners with online donations now or with pocket change at the festival. Help us catch a keeper for your favorite Sturgeon Story by casting your vote now!

Native American Drum Ceremonies - 10am & 2:30pm
Water is Life.  Water is Nibi. Join the All Nations Native American Drum from Southwestern Ontario as they share through traditional drum the cultural connection sturgeon had in the survival for Native Americans, as well as the cultural connection they share with water. The drum performs for the opening and closing ceremony of the festival.

Sturgeon Homecoming - 2:30pm, Lighthouse Beach
Meet at the touch tank on the beach to see both baby and adult Lake Sturgeon hand-released back to their home in Lake Huron.

Adopt A Sturgeon - All Day
Purchase our Lake Sturgeon adoption kit that includes a 10" plush sturgeon, adoption certificate with naming opportunity, and species spotlight card full of data about your sturgeon. Click here to Adopt Your Sturgeon.

Kids Activities - All day, Pavilion
Meet us under the picnic pavilion for fish print painting, games, Seymour Sturgeon selfies, and more!

Food Trucks, Live Music, Giveaways, and More!
Sturgeon Resources
Downloads
In The News
Websites
Video Clips
Fact Sheets
Thank you to our Sponsors
Organized by Friends of the St. Clair River, Sturgeon Festival is a partnership between natural resource agencies, government, industry, scientists and anglers in order to highlight the ecosystem approach to improving fish and wildlife habitat in the St. Clair River and to increase Lake Sturgeon populations. 
Sponsors are prominently recognized on all marketing materials including banners, program guide, website, social media, and flier.
Cargill

Dortman Environmental

DTE Foundation

Enbridge

Great Lakes Fishery Commission

Gun Lake: Match-E-Be-Nash-She-Wish

Meijer

Michigan Department of Environment, Great Lakes, and Energy

SEMCO

St. Clair-Detroit River Sturgeon For Tomorrow