Blue Water Sturgeon Festival
Saturday, June 4, 2022, 10am – 3pm
Fort Gratiot Lighthouse
---
Did you know fish six feet long and one hundred years old are swimming Lake Huron, the St. Clair River and Lake St. Clair? There are fewer Lake sturgeon today than a century ago because they're a threatened species, but of the sturgeon still roaming the Great Lakes, most of them are in the St. Clair River. Over 10,000 Lake sturgeon call underneath the Blue Water Bridges home which makes it possible to see these gentle giants at the Blue Water Sturgeon Festival.
Sturgeon Festival is offering an up close experience with these giants aboard our exclusive Huron Lady Sturgeon Science Cruise! This is an amazing opportunity that can only be experienced in Port Huron! Thanks to our partners, St. Clair-Detroit River Sturgeon For Tomorrow is providing a live sturgeon aquarium experience, and rolling sturgeon video footage from the St. Clair River is provided compliments of Gregory A.D. Throughout this expertly narrated cruise, you can ask questions to the biologists who study Lake sturgeon, learn about the latest Great Lakes sturgeon research, and watch live sturgeon research activities. These research activities, aimed at tracking individual fish over time, is studying the biology, behavior, and ecology of Lake sturgeon. The results of this research are used to inform management decisions, identifying critical habitat, and enhance recovery efforts for this imperiled species.
Since the Sturgeon Festival was hatched in 2012, Friends of the St. Clair River has been highlighting the fascinating story of this ancient fish - a mascot for Great Lakes' recovery.
Affectionately known as the Gentle Giant of the Great Lakes given its enormous size, Lake Sturgeon are phenomenal to see up close. They can weigh up to 150 pounds, grow over 7 feet, and live over 100 years. Once on the brink of extinction and added to Michigan's Threatened Species list, Lake Sturgeon are making a comeback and have become a spotlight species for the habitat restoration work completed in the St. Clair River. With sturgeon numbers slowly on the rise, we are assured the health of the St. Clair River is also improving.
The Sturgeon Festival is our largest annual fundraiser and, because of COVID-19, we have experienced a significant decrease in fundraising. We are facing financial constraints from the economic impacts of the virus and raising funds is crucial. Funds raised during this event support our conservation, education and stewardship programs.
Sturgeon Festival is a modified experience where equipment sanitization and separation will be maintained. The festival will follow Michigan's COVID-19 guidelines for face coverings, social distancing and crowd control. Please click our partners logos to the left to view their latest facility hours, tours and amenities.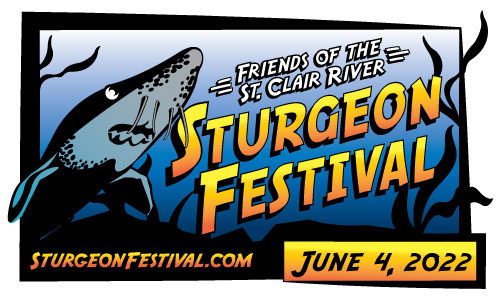 Special Event

Sturgeon Full Moon Lighthouse Climb
Thursday, August 11, 6pm, Fort Gratiot Lightstation
Advanced ticket purchase required – Click here
This event coincides with August's full moon, the Sturgeon Moon, and offers exclusive full moon lighthouse climbs. The festival will be divided into multiple ticketed entry times, all include lighthouse climbs. Families are encouraged to bring chairs, blankets and pack a picnic. Features will include beach fireside chats, presentations by the Warren Astronomical Society, storytellers, food vendors and more.
Festival Activities

Sturgeon Story Contest
Vote for your favorite student's artwork using pocket change! Finalists were selected from posters submitted by St. Clair County 5th graders. Help us catch a keeper! Click here to vote for your favorite Sturgeon Story finalist!

Native American Drum Ceremony
Join the Blue Water Indigenous Alliance as they share through traditional drum the importance sturgeon had in the survival, history and culture for local Native Americans communities.

Adopt A Sturgeon
Purchase a Lake Sturgeon adoption kit that includes a 10" soft plush sturgeon, formal adoption certificate with naming opportunity, species spotlight card full of data about your sturgeon, and connection to additional data as it becomes available. Click here for more info.

Sturgeon Swag and Seymour Sturgeon Selfies
Sturgeon Downloads
Downloads

In The News

Websites

Video Clips

Fact Sheets

Thank you to our Sponsors & Partners
The Sturgeon Festival, organized by Friends of the St. Clair River, is a partnership between natural resource agencies, government, industry, scientists, anglers, and recreationalists in order to highlight the ecosystem approach to managing fish and wildlife in the St. Clair River and to increase interest in restoring the lake sturgeon to higher levels of abundance. With everyone's cooperation, this "Gentle Giant of the Great Lakes" will be saved from extinction for all to enjoy.
Cargill

Enbridge

Great Lakes Fishery Commission

Gun Lake: Match-E-Be-Nash-She-Wish

Meijer

Michigan Department of Environment, Great Lakes, and Energy

SEMCO

St. Clair-Detroit River Sturgeon For Tomorrow