2020 Sturgeon Festival
***POSTPONED***
Fort Gratiot Light Station Park, 2800 Omar Street, Port Huron
UPDATE - 7/24/20
Sturgeon Festival Full Moon Lighthouse Climb Postponed
Friends of the St. Clair River (Friends) has made the difficult decision to postpone the 2020 Sturgeon Festival until 2021. The 8th annual event, originally set for May 30, was pushed back to August 2nd to coincide with August's full moon, the Sturgeon Full Moon and offer full moon lighthouse climbs at the Fort Gratiot Lightstation in Port Huron. Friends was hopeful this three-month delay would have allowed us to continue to deliver the event, even in a scaled back capacity. Outlined below are the major obstacles why the decision was made.
1) Safety: A Covid-safe environment cannot be guaranteed, even with adding masks, PPE, sanitizing and handwashing. Sturgeon Festival routinely draws thousands of visitors and remaining compliant with the EO invites risk by potentially having hundreds waiting in line to enter.
2) Experience: The immersive, hands-on experience the festival is known for would be severely compromised. Visitors were able to put their hand in live sturgeon tanks, have meet-n-greet with sturgeon fisheries biologists, hands-on activities, workshops, and more. Those elements were being eliminated reducing the experience we value that's rooted in Great Lakes and Lake Sturgeon education and outreach.
3) Budget: Even if safety is guaranteed, Friends is facing financial constraints from the economic impacts of the virus. Conserving funds, not expending funds, during this time is crucial.
Friends remains nimble, open to adjustments, and most importantly, committed to the health and safety of our volunteers, staff and community. Despite the postponement of the Festival to 2021, Friends is optimistic we will sustain the momentum of our programs and continue to provide services. The Blue Water Sturgeon Festival is Friends of the St. Clair River's largest annual fundraiser. To support Friends, visit www.scriver.org or contact Sheri Faust at (810) 730-5998 or info@scriver.org.
2021 Dates

Sturgeon Festival – Saturday, June 5
Sturgeon Full Moon – Sunday, August 22
---
Since its inception in 2012, Sturgeon Festival has been highlighting the fascinating story of this symbol for the Great Lakes recovery. Lake Sturgeon are phenomenal to see up close because they reach enormous size - weighing up to 150 pounds, growing over 7 feet, and living over 100 years. The St. Clair River supports the largest remaining population of threatened lake sturgeon.
Lake sturgeon populations have declined since the early 1900's, and as a result were added to the Threatened Species list in Michigan. In recent years, the lake sturgeon has made something of a comeback due to completion of numerous spawning reefs in the St. Clair River. Sturgeon can be used as a spotlight species to gauge the health of the river, and with sturgeon numbers slowly on the rise we are assured that the health of the St. Clair River is also improving. A sustainable fish population and healthy river is not only important for our health, but for increased recreation and tourism for Michigan's Thumb Coast.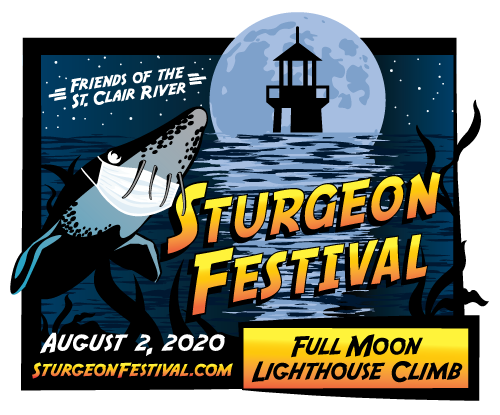 FOR MORE INFO:
810-987-5306 • Email
EVENT CONSIDERATIONS
All visitors are required to wear a mask at all times.
Lighthouse Park is smoke-free.
Bring cash for food and merchandise, there is no ATM on-site.
The Port Huron Museum charges $5/person to climb the lighthouse.
A max. of 6 people will be allowed in each building at any given time.
Extra hand-washing stations will be provided.
Festival Activities

Full Moon Slow Row
The Yak Abouts are launching a full moon slow row from Lighthouse Beach at 8:30pm. Kayak rentals are available from Great Lakes Paddle Sports. Learn more at https://www.facebook.com/SlowRowMichigan/

Sturgeon Story Contest: Community Edition
The sturgeon story contest winners will be on display.

Adopt A Sturgeon
Purchase a Lake Sturgeon adoption kit that includes a 10" soft plush sturgeon, formal adoption certificate with naming opportunity, species spotlight card full of data about your sturgeon, and connection to additional data as it becomes available. Click here for more info.

Native American Drum Ceremony
The Woodland Boyz comprised of members from the Sault Ste Marie tribe of Chippewa Indians and Keewenaw Bay Indian Community in Baraga will perform a drum circle at 5:30pm and 9:30pm, highlighting the significance lake sturgeon have in Native American history and culture.

Astronomy Storytelling
Join storytellers and experts from the Warren Astronomical Society on the beach from 8:00 – 10:00pm as the moon rises over Lake Huron.

Full moon lighthouse climb ($5/person fee)

Great Lakes exhibits with children's activities

Sturgeon Swag and Seymour Sturgeon Selfies

Music, food, and more! Bring your own chairs or blanket.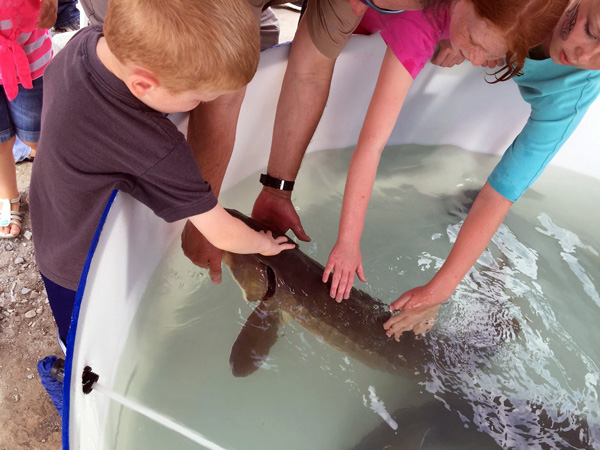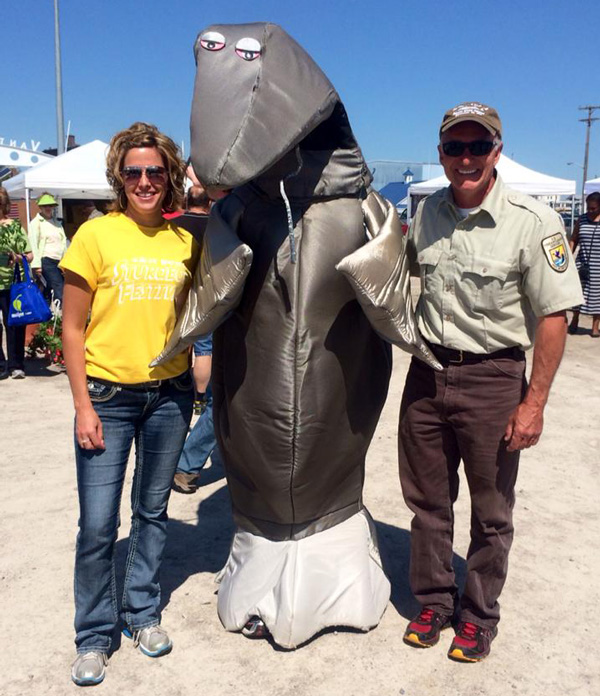 Special Events

NEW THIS YEAR! Sturgeon Stories Contest: Community Edition
We're rolling out our seventh annual Sturgeon Stories Contest, but instead of having fifth graders participate, we've opened it up to everyone. Since 2012, we've invited St. Clair County fifth graders to share the Lake Sturgeon story through visual art and creative writing. We are giving families and community members a chance to participate in our annual tradition. We didn't want to go a year without seeing the creative Sturgeon Stories submissions we receive from 700 fifth graders.
Submissions may be (1) Visual Art, like drawings and posters, (2) Technical Drawings, like diagrams, timelines and infographics or (3) Creative Writing like poetry, short stories or original songs. Ideas include lake sturgeon biology, habitat, their role in the food web, their connection to Native Americans, or how to protect water quality. The contest begins May 1st and entries must be received no later than May 22nd. Entries will be judged by a local panel and prizes will be awarded. Winners art will be displayed at the Sturgeon Festival. For more information, contact our Environmental Educator at education@scriver.org.

Sturgeon Science School ***Postponed to 2021***
Local 5th graders are invited to participate in our Sturgeon Story Contest which could win the class a free Huron Lady Sturgeon Science Cruise. During the educational 1-hour cruise students learn about lake sturgeon habitat, and see live sturgeon tagging in Lake Huron from fisheries biologists. The contest is open to public, private or homeschooled 5th grade students from St. Clair County. Submissions can depict lake sturgeon biology, habitat, their role in the food web, their connection to Native Americans, or how to protect water quality. Posters must be 8.5" x 11" and completed individually.
For complete details, email our Environmental Educator.
---
Sturgeon Resources
Downloads

In The News

Websites

Video Clips

Fact Sheets

Thank you to our Sponsors & Partners
The Sturgeon Festival, organized by Friends of the St. Clair River, is a partnership between natural resource agencies, government, industry, scientists, anglers, and recreationalists in order to highlight the ecosystem approach to managing fish and wildlife in the St. Clair River and to increase interest in restoring the lake sturgeon to higher levels of abundance. With everyone's cooperation, this "Gentle Giant of the Great Lakes" will be saved from extinction for all to enjoy.