Sturgeon Full Moon Lighthouse Climb
2022 Event Canceled
Fort Gratiot Lightstation Park
2800 Omar Street, Port Huron, MI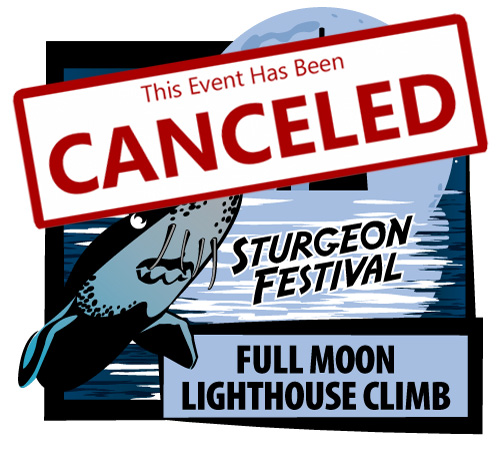 ---
View August's full moon, the Sturgeon Moon, from the top of Michigan's oldest lighthouse.
Friends of the St. Clair River's sturgeon celebration continues with the inaugural Sturgeon Full Moon Lighthouse Climb. This unique event coincides with August's full moon, the Sturgeon Moon, from Michigan's oldest lighthouse. The August full moon got its name from Indigenous communities because they knew the sturgeon of the Great Lakes were most readily caught during this full moon.
We have worked hard to bring a unique and special event to Michigan's Thumb Coast – equally unique and special as Lake Sturgeon! Event highlights include a full moon kayak paddle, s'mores, stargazing and storytelling, a beach bonfire, Great Lake and Sturgeon art vendors, strolling musicians, and food vendors. Native American performances, performed by Bimose Ode, will share through traditional Drum the history and values Lake sturgeon and water had on Indigenous communities.
Did you know fish six feet long and one hundred years old are swimming Lake Huron, the St. Clair River and Lake St. Clair? There are fewer Lake sturgeon today than a century ago because they're a threatened species, but of the sturgeon still roaming the Great Lakes, most of them are in the St. Clair River. Lake Sturgeon have become a symbol for the Great Lakes and their recovery.
Lake sturgeon are affectionately known as the Gentle Giant of the Great Lakes given their enormous size. They can weigh up to 150 pounds, grow over 7 feet, and live over 100 years. Once on the brink of extinction and added to Michigan's Threatened Species list, Lake sturgeon are making a comeback and have become a spotlight species for the habitat restoration work completed in the St. Clair River.
We have been highlighting the fascinating story of this ancient fish since 2012. Tickets and merchandise sales support our education and conservation programs.
We are Michigan's Thumb Coast largest environmental organization inspiring citizen action through stewardship, monitoring and education to restore, protect and enhance the St. Clair River and its watersheds. Thank you for stopping by!
For More Info:
2022 Event Canceled
Fort Gratiot Light Station Park
2800 Omar St., Port Huron, MI
Tickets
2022 Event Canceled
Ticket purchase includes all activities, lighthouse climb, food vendors and music, beach bonfire, fireside chats with stargazing and storytelling, music and special guest performances.
Event Highlights

S'mores, Storytelling and Stargazing – Head to the beach for a bonfire! Once darkness settles in, listen to Andrew Kercher with Port Huron Museum for haunted storytelling, and the Warren Astronomical Society for stargazing.

Full Moon Paddle – Join the Yak Abouts at 8pm to launch from Lighthouse Beach into Lake Huron for a paddle under the full moon light.

Bimose Ode "Walk Along With Heart" – Throughout the event, listen to Native American drum performances and singing of traditional songs and intertribals sharing the importance sturgeon and water have in the survival, history and culture for Indigenous communities

Beach Bonfire

Great Lakes and Sturgeon Art Vendors *6-8pm - Please bring cash or a card to support the talented artists!
Karson Schenk Collage and Print – Visit Website
Jill Joseph Painted Horse Woman, Ojibway Artist – Visit Website
Lynne Heasley, The Accidental Reef and Other Ecological Odysseys in the Great Lakes, and Glenn Wolff, Illustrator – Visit Website
Tim Brown Woodworking
Sturgeon Story Contest Voting – Vote for your favorite student artwork using pocket change. Finalists were selected from posters submitted by St. Clair County 5th graders. Help us catch a keeper – Vote Here!

Hands-on Activities from 6-8pm

Friends of the St. Clair River and the Blue Water Indigenous Alliance
Food vendors
Strolling string instrument musicians
Lightstation Museum Gift Store Open
Sturgeon Swag and Sturgeon Mascot Meet n Greet
Know Before You Go
Bring your lawn chair or blanket for the special performances and for the beach
Bring your kayak for the full moon paddle
Alcohol will not be sold on the premises, but personal beverage coolers with alcoholic beverages are allowed
Glass is not permitted on the beach
There is not an ATM on site – please bring cash or a card to support the talented artists
Sturgeon Downloads
Downloads

In The News

Websites

Video Clips

Fact Sheets

Thank you to our Sponsors & Partners
The Sturgeon Festival, organized by Friends of the St. Clair River, is a partnership between natural resource agencies, government, industry, scientists, anglers, and recreationalists in order to highlight the ecosystem approach to managing fish and wildlife in the St. Clair River and to increase interest in restoring the lake sturgeon to higher levels of abundance. With everyone's cooperation, this "Gentle Giant of the Great Lakes" will be saved from extinction for all to enjoy.
Cargill

DTE Foundation

Enbridge

Great Lakes Fishery Commission

Gun Lake: Match-E-Be-Nash-She-Wish

Meijer

Michigan Department of Environment, Great Lakes, and Energy

Motherson

Port Huron Rotary

SEMCO

St. Clair-Detroit River Sturgeon For Tomorrow