The Bridge to Bay Trail is a diverse trail system of boardwalks, riverwalks, rail trails and bike paths that extends along 50 miles of shoreline across St. Clair County, Michigan. Experience picturesque views, charming towns, parks and benches, freighter watching and the blue waters of Lake Huron, the St. Clair River, and Lake St. Clair. Visit the NEW Bridge To Bay Trail website at www.BridgeToBay.org.
Bridge To Bay Trail
An unprecedented opportunity has begun to build a blueprint for a regional trail system that will complete the 54-mile Bridge To Bay Trail as a continuous route. Since 2018, efforts have begun targeting trail gaps in seven communities. When completed another 18 miles of trail routes will be added to the B2B Trail. These segments will redirect trail connections back into downtowns and to recreational assets along the St. Clair River, Lake Huron and Anchor Bay waterfronts.
Attention is also being given to the existing twenty-six miles of B2B trail infrastructure. Additional funding secured in 2020 is rehabilitating and reconstructing over two and a half miles of segments as some are twenty years old. A Trails Maintenance Grant from the Wilson Fund at the Community Foundation of Southeast Michigan is being split between seven communities to continue to provide the recreation experience envisioned when their trail segments were developed.
The B2B Trail is the major artery for other connecting trails in Southeast Michigan, including the Great Lake to Lake, the Wadhams to Avoca Trail, and at the southern end of St. Clair County the Bridge to Bay Trail will provide a critical link into northern Macomb County. This builds on the success of Blue Meets Green priorities, the 2019 St. Clair County Trails Plan and will result in on-the-ground projects.

Bridge To Bay Trail
Our trail system connects communities and people and welcomes all to explore opportunities on and off the trail. Sponsored by Michigan Trails and Greenway Alliance and Southeast Michigan Trails Action Team.
Trail Coordinator Role
Friends of the St. Clair River's stepped into the Trail Coordinator role to serve as project manager providing core function and coordination for on the ground projects, liaison between trail partners, convene meetings of the Regional Trails Board, serve as the media spokesperson and conduct trail events and promotion.
As the only organization in Michigan's Thumb that focuses solely on human interactions with land and water in all its forms, we engage partners throughout Michigan and Ontario for successful program implementation.
Watersheds do not end at the boundaries of a river; they extend onto the land it serves. There are many untapped opportunities for enhancing watershed management, such as coordinating stewardship projects, improving outdoor recreational areas, managing biological resources, and connecting land and water corridors. Friends values the rich natural resources of our watershed and is committed to the quality of life for all who live within its boundaries.
Non-motorized trail use is a rapidly growing industry. Trails, whether land or water, are a meaningful way to engage communities in stewardship of natural resources, such as open spaces, green spaces, parks, and high quality landscapes. Trails are tangible connections to the intangible, like environmental conservation and sense of community.
Trails, wildlife, natural processes and outdoor experiences are not confined by jurisdictional lines. Successful trail program implementation relies on cross-boundary collaboration. We work beyond jurisdictional lines for across cross-boundary collaboration to advance a collective vision as one landscape. We are resource managers. We pay close attention to and invest in landscape-scale collaboration as a pathway to manage and steward our natural resources.
Friends vision is to be a highly visible champion for St. Clair River watershed programs, issues, research, policies and partnerships using sound research, respected advocacy and innovative education. The Trails Initiative is synonymous with Friend's Strategic Plan Pillars, which include (1) Building a strong presence, (2) Establishing robust stewardship programs, and (3) Ensuring adequate financial stability.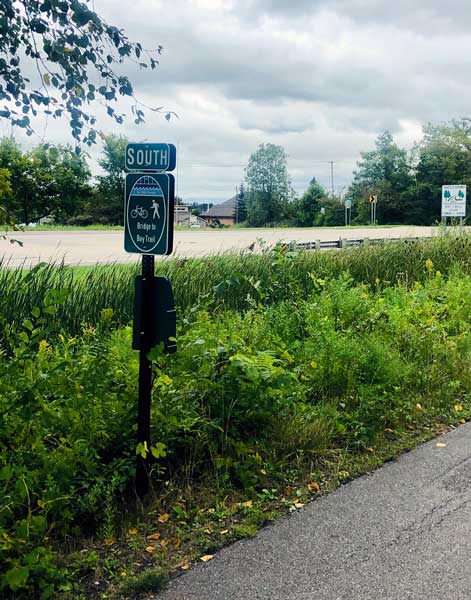 Bridge to Bay Trail Future
This initiative is in the start-up phase and requires significant financial investment in the delivery of services, programming and management related to trails development and promotion. The B2B Trail's entire life from function to maintenance to profitability is being considered. Support is needed to provide the foundation for personnel, marketing, wayfinding, programming and public events for the B2B Trail and many more county trail systems in years to come.
Support Your Trail
Build a culture for safe and accessible biking by being an advocate for trails in your community
Join an Advisory Trail Committee group in Port Huron, Marysville, St, Clair, Marine City and Downriver
Familiarize yourself with the 54-mile Bridge To Bay Trail
Get out and use the trail by biking, walking, running. Pets and strollers welcome!
Send St. Clair County Trails Planning questions to

[email protected]