Dive Into St. Clair River Drinking Water
Restrictions on Drinking Water Consumption, Taste or Odor Problems, due to spills that have the potential to contaminate the river water requiring the shutdown of the drinking water intake facilities.
It is important to note the drinking water supplied by the water filtration facilities, using the St. Clair River as source water, have always met and/or exceeded all Federal and State drinking water guidelines. The St. Clair River Area of Concern impairment exists only because of the potential for contamination from spills and the need to shutdown facilities to avoid contamination.
There is a multi-level and international approach in place to protect our source water, giving us confidence that our drinking water is protected from potential spills and contamination. To address the impact of spills on drinking water filtration facilities, the following measures have been implemented:
Discharges and spills from industrial sources have been greatly reduced since the 1980's
Discharges and combined sewer overflows from municipalities have also been reduced or eliminated
Spill reporting programs have been updated for immediate real-time spill notification to facilities including the State of Michigan and the Canadian Spills Action Center
Procedures for coordinated containment and clean-up response to spill events are in place and are routinely practiced
Enhanced monitoring of intake water by water facilities to detect any exceedances of normal water chemistry
For more information about our St. Clair River drinking water initiatives and resources, contact Paulette Duhaime, our staff liaison to the St. Clair River Area of Concern, at [email protected].
Local Information
Are you interested in learning more about the St. Clair River water distribution system? Here are a few resources available to learn more about how your water is filtered, where your water comes from and what rules and regulations exist to keep your drinking water safe.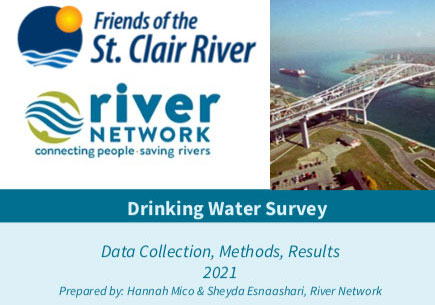 St. Clair River Drinking Water Presentation – October 19, 2021
Protecting drinking water quality is a complex responsibility, and in the case of the St. Clair River, an international responsibility. We gathered water professionals, industry partners from the U.S. and Canada, and local communities to discuss the progress made in improving water sourced from the St. Clair River over the last 30 years.
Drinking Water Quality Reports
Your Consumer Confidence Report (CCR) is a document the Environmental Protection Agency requires many water systems to provide for their customers annually. These reports are also referred to as an annual drinking water quality report and provides customers with critical information regarding the quality and safety of their drinking water. Use the links below to find your Consumer Confidence Report and refer to section two of River Network's Drinking Water Guide for more information on how to understand your report.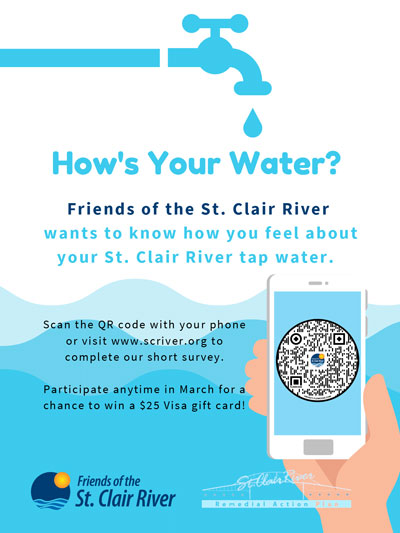 Water Testing
If you're feeling uncertain about the quality of your own drinking water and are interested in learning more about it, testing your water could be a useful step. Use the resources below to contact your municipal water department and begin the process of testing your drinking water supply.
For information on water testing in St. Clair County, contact your municipal water department.
Port Huron: 810-984-9730 (Fort Gratiot, Burtchville Township, Clyde Township, Port Huron Township, Kimball Township)
Marysville: 810-364-8460
St. Clair: 810-329-5276
East China Township: 810-765-4647
Marine City: 810-765-8846
Algonac: 810-794-3281
---
DIY Water Filtration
At home water filtration is a great way to address any lingering concerns about your water quality. At-home water filtration includes things like filtered water pitchers, filters for your taps or faucets, or installing filtration systems in your home's plumbing. To find out which water filtration system is best for you, use the links below to learn more.
Drinking Water Survey
With the consultation from River Network and a grant from MI Department of Environment, Great Lakes and Energy (EGLE), we conducted a survey of residents along the St. Clair River to to assess their knowledge, perceptions and concerns of St. Clair River tap water. During the month of March, a total of 419 residents responded who live in municipalities whose source water comes from the St. Clair River. To learn more about the results of the survey follow this link (pdf) or click the image.
Get Involved and Take Action
There are a number of opportunities to get involved and take action to protect your drinking water, whether is surface water from the St. Clair River or groundwater from an aquifer. This includes becoming better informed about the quality of your drinking water and contacting the appropriate agencies when a problem arises. Follow the links to learn more.
Become a Clean Water Ambassador
The Clean Water Ambassador Initiative is a statewide effort designed to improve transparency and communication concerning water quality in Michigan. Community residents throughout Michigan are encouraged to serve as Community Ambassadors. As an Ambassador, you share your opinion and stay connected to drinking water related efforts in Michigan.
---
Participate in Drinking Water Awareness Week
Drinking Water Week was established by the American Water Works Association to provide an opportunity every May for water professionals and the communities they serve to recognize the vital role water plays in our daily lives. During Drinking Water Awareness Week Michiganders can learn more about drinking water and join in efforts to ensure clean, safe drinking water for everyone.
Take A Deeper Dive
The Office of the Clean Water Public Advocate
The Office of the Clean Water Public Advocate was created through Governor Whitmer's Executive Order 2019-06 to ensure drinking water concerns are investigated. Based on investigative analysis, recommendations to laws, rules, regulations, and procedures are made to ensure community concerns are addressed. The Office also connects resources at the state and local level to ensure Michigan is responsive to drinking water quality concerns.
---
River Network Drinking Water Guide
River Network's Drinking Water Guide is a first step in galvanizing a national network of advocates for safe, clean, affordable, and sustainable drinking water and drinking water systems. Supported by the C.S. Mott Foundation, and guided by a Great Lakes–based Advisory Committee, the Drinking Water Guide provides in-depth information, resources, and case studies organized into sections that answer these fundamental questions: Where does drinking water come from? How can we protect our drinking water? How do we ensure water is safe to drink? How is drinking water cost calculated? What do water bills pay for?
---
Michigan Department of Environment, Great Lakes & Energy (EGLE)
The Michigan Department of Environment, Great Lakes & Energy (EGLE)'s website contains important information and updates regarding PFAS contamination and lead in water to help you understand the risks and what the State of Michigan is doing to protect your water from harmful contaminants.
---
Safe Drinking Water Act
If you'd like to learn more about the legal tools available to protect your water, consider exploring EPA's resources on the Safe Drinking Water Act, including this helpful overview.
Funding for this webpage was provided through a PUBLIC ADVISORY COUNCIL SUPPORT GRANT FOR THE ST. CLAIR RIVER AREA OF COCERN from the Michigan Department of Environment, Great Lakes and Energy, and with consultation from River Network.