Happy New Year!
All of Michigan's many seasons are filled with wonder, but winter is definitely my favorite time of year for outdoor work. Why do I find so much joy in colder weather? Working conditions are safe and comfortable for people, and dormancy reduces risks to plants and habitats. Winter brings amazing opportunities for me to cultivate my mental and physical health and to enjoy good, clean fun in the field.
Bundling up in winter work attire reduces my exposure to sunburns, stinging plants, and biting insects. Winter wear also protects me from the many woody plants that have sharp thorns which attempt to capture me and shred my skin or outer layers. I'm unlikely to overheat, and if I do, I can peel off some layers. There is only so far I can go with that in the summer and still be welcome in public places. The air is sweet and clear, and as long as I'm dressed for it and keep moving, I stay warm. Even wearing the obligatory mask is comfortable in the winter.
Being outside in the winter is also great for my mental health. I find that getting outdoors in winter chases my blues away, regardless of whether the sky is dark and gloomy. Seeing animal tracks on the ground or in fresh snow, watching birds feasting on berries, and laughing at busy, chattering squirrels are bonuses. Identifying plants in the winter gives me interesting challenges, and if you've ever spent time with me in the woods, you'll know that I frequently expound on the beauty of bark.
My favorite outdoor task in any season is lopping, which is pruning woody plants with long-handled cutting tools. Winter is the best season for lopping because the plants are dormant and leafless, so I can see their branching structure easily, and often the ground I'm standing on as I work is frozen or at least less muddy. The cuts I make to the plants are generally clean and heal quickly, especially since few plant pests and diseases are active in the winter. Spring ephemeral wildflowers, such as trillium and skunk cabbage, are also dormant and unharmed by my footsteps.
I am not alone in my love of lopping. Many Friends volunteers are passionate polar-weather pruners. Ask Laura to show you her "Loga" (yoga lopping) moves sometime while you're helping us at Columbus County Park this winter. Doreen enjoys the "Less Talk, More Lop" mindset of winter stewardship. And Bob, Tom & Laurie can't stop lopping at Fort Gratiot County Park, often working there independently when love of lopping spills over from their own yards into the park.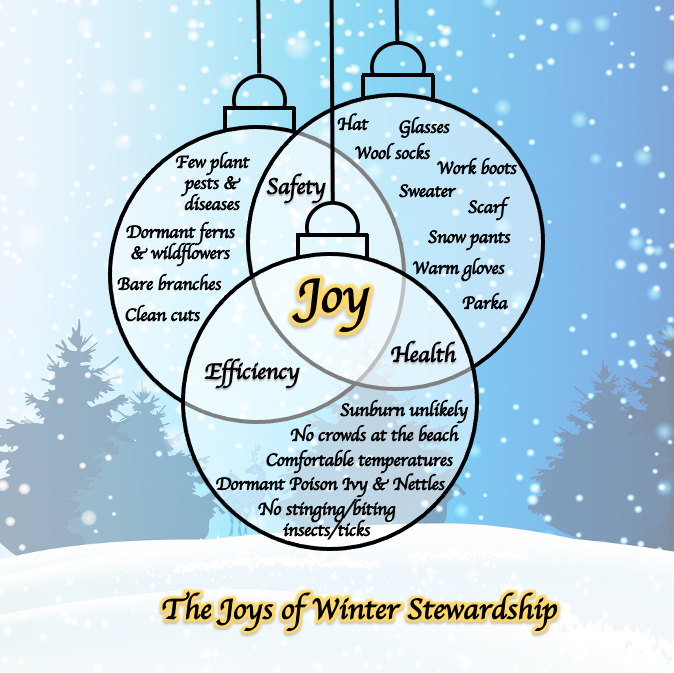 Suggestions for safe winter stewardship:
Consider your freezing weather fashion head-to-toe
Protect your eyes, and remember that sunglasses may be too dark for working in the woods
Hats, gloves and other clothing should be non-snagging, since many plants have thorns
Dress in layers and be prepared to shed some as you warm up
Winter brings many opportunities for getting outside and giving back to nature. Friends offers outdoor winter stewardship opportunities at Columbus County Park, Fort Gratiot County Park, Blue Water River Walk and elsewhere. No experience or special tools are required. We will show you what to do and how to do it. Reach us at stewardship@scriver.org to learn more.
Kirsten lives in rural China Township with her husband, four chickens, three cats and one elderly goat. When she is not lopping, Kirsten enjoys hiking, reading and making soup.
What do you love about winter work? Leave us a comment!