Has it really been nine weeks already? It feels as though I just accepted the internship offer… just sat down for the first meeting… just received my first assignments; It's all gone by so fast! I'm finally getting to the point where I feel like a team member, ready to start handling more tasks, and I'm starting to see the bigger picture of what Friends of the St. Clair River is all about: community! It's said that all good things must come to an end, but I will look forward to continuing my involvement with Friends as part of the volunteer crew. Being the communications/stewardship intern has been a valuable experience for me and I would like to indulge in and reflect on some of my journey with Friends of the St. Clair River.
A unique feature of having science communications blended with the stewardship intern position was being given some creative freedom to put out a product for the community to digest. Quite frankly, biology classrooms don't really offer much room for creativity, so this was certainly putting me outside of my comfort zone, but in a good way. Needless to say, I was excited to be given the Watershed Wednesday video series with hopes of sharing my experience and point of view on the watersheds of our region. I transitioned from "camera shy new guy" to having inspiration and confidence to develop as a videographer. I owe it to Friends for a new skillset that I can take with me to whatever I venture to next.
Another experience I enjoyed was working on the Areas of Concern program for the St. Clair River. Though I did not get to witness a project from start to finish, I was able to see the process of maintaining these rehabilitated areas on a weekly basis. Over the past nine weeks I have pulled, chopped, and battled numerous invasive species in the parks that Friends helps maintain and let me tell you, these invasives do not show themselves to the door! It's a constant battle year after year, but with proper seasonal conservation efforts they can be tamed to have minimal impact on the native species we revere and welcome into our local ecosystems. I now have a much better understanding and appreciation for the process of environmental rehabilitation, and it is apparent that seasonal monitoring is just as important as the initial transformation efforts.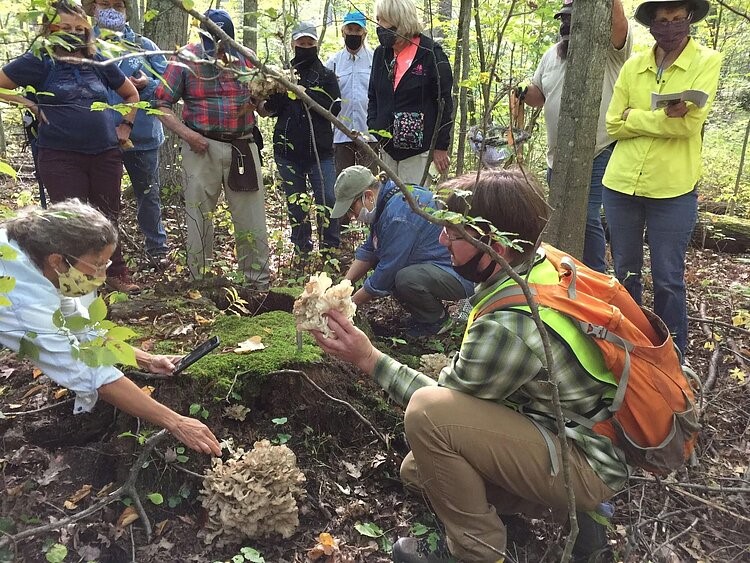 Ultimately, this experience taught me a great deal about the value of community and how investing in it allows an organization like Friends to snowball into something so much bigger than it could be on its own. Creating programs that encourage community education and involvement gives the residents a common goal to work towards and connects them through shared experiences. I was elated to have led a program of my own, which was the Fall Mushroom Foray. I could feel the curiosity and excitement of those in attendance and quickly after we set on the trail everyone was immersed in the hunt for prized edible mushrooms! It was soon after that day I realized these programs have an even larger impact than participation. These programs also create long term sustainability for Friend's mission by encouraging new generations of environmental scientists, biologists, and educators who may someday be the ones leading Friends further down the path of environmental excellence.
I feel so fortunate to have been offered this opportunity and to have formed new bonds with people who possess similar philosophies and values right here in my hometown. I can't even begin to tell you all how thrilled I am to know that there is an environmental movement making an impact in this region and to have played even a small part in it has been enjoyable and humbling. Before I sign off, I'd like to extend a huge thank you to the Friends staff and volunteers for being so welcoming and supportive during my time here. Even though my internship is about to expire, my journey with this organization has only just begun as you can be sure that I will continue to get my hands dirty and my feet wet with Friends whenever I am able!
Blake Short is the Fall '20 Science Communications/Stewardship intern for Friends of the St. Clair River. Blake is completing his Environmental Biology undergrad in December 2020 and is eager to explore new opportunities in the biological sciences. If you see a guy out in the local public lands looking for mushrooms but trying to be inconspicuous about it… it's probably him!