Spongy Moth – It's almost over, your place is a mess, and your trees are still alive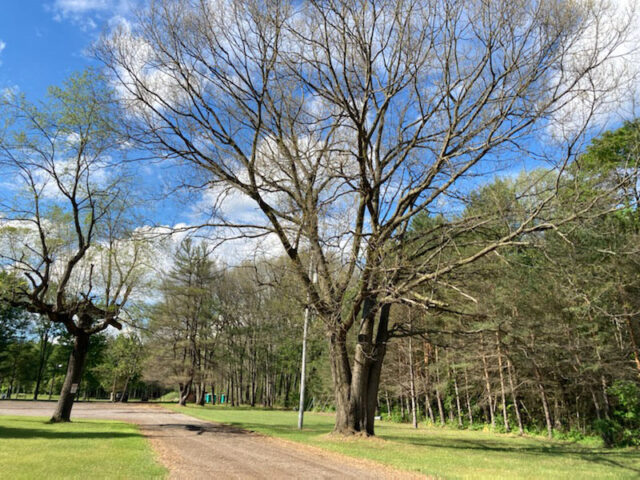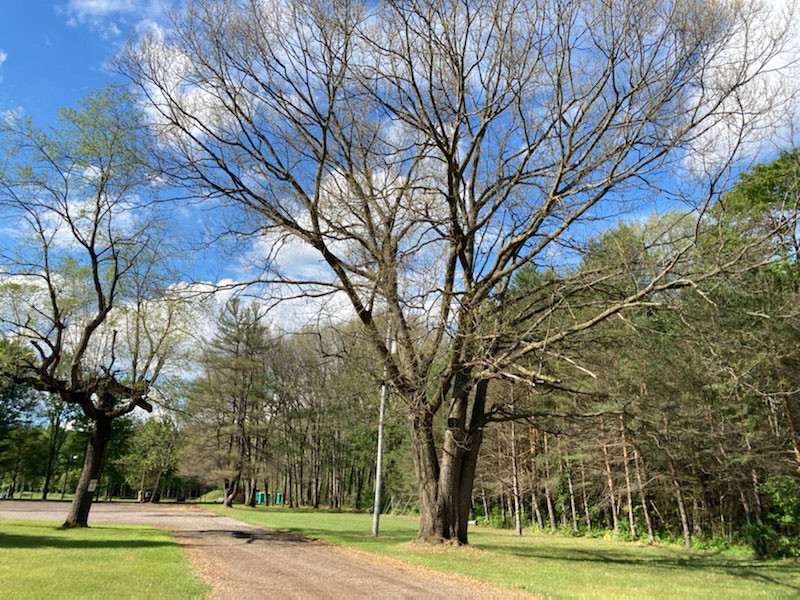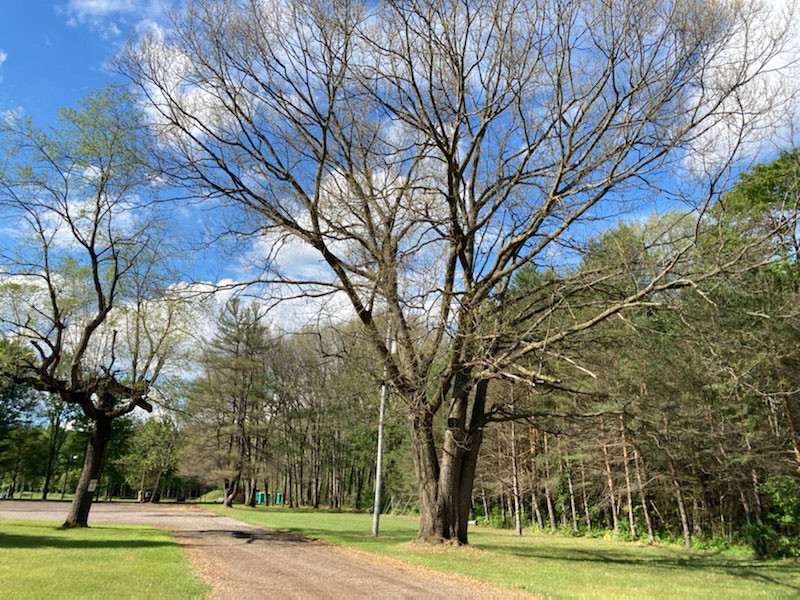 It's almost over! The Spongy Moth frass, leaf fragments and large, hairy caterpillars will stop raining down on your head and home in the next few days, if they haven't already. The only damaging and very messy part of the Spongy Moth life cycle is the caterpillar phase, and this is the only stage of the life cycle that eats anything. Let's repeat that. Only the caterpillars eat. The pupae, adult moths, and egg masses do not eat. Anything. Ever. The caterpillars will begin pupating within the next week or two, and the feeding/defoliation will stop for this year. If you have hiding bands installed, we encourage you to leave them in place for another few weeks to encourage the adult moths to lay their egg masses there, facilitating your later removal. Check out our hiding band demonstration video here.
How about my trees? The vast majority of trees, even those heavily defoliated by caterpillar feeding, will be fine. Deciduous trees lose their leaves every year, anyway, albeit not typically so early in the season. Bare trees that were healthy before the invasion will remain bald for a few weeks before they flush a new set of leaves to replace those eaten by the caterpillars. During this time, unscrupulous contractors may try to convince you that your trees need to be treated with a pesticide or that they are dead and should be cut down before they fall. Again, most trees will be fine, and it is far too soon to call time of death as it can take weeks, months, or even years to determine outcomes. If you are able to water valued individual trees, we recommend that you do so to help them recover. Avoid damaging trees! Lawn mower crashes, string trimmer nicks and root compaction are real tree-killers even when they don't have drought stress and Spongy Moth caterpillars gnawing on them. Evergreen trees heavily defoliated by Spongy Moth caterpillars are not as lucky as deciduous ones and are unable to produce a new set of needles all at once. Please contact your local MSU Extension office if you have concerns or questions about tree health.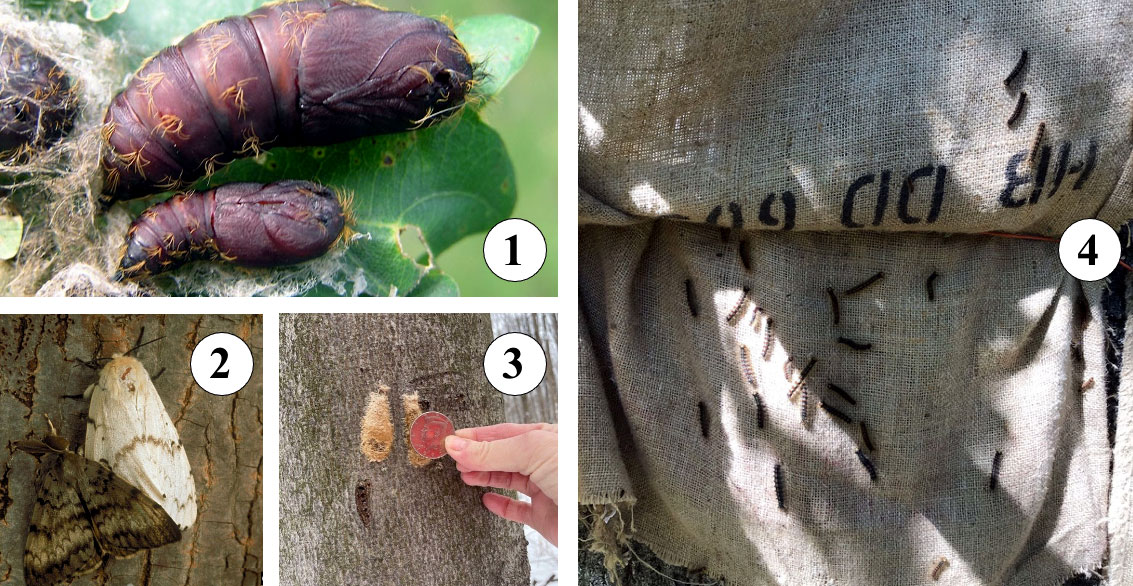 1 – Spongy Moth pupae – Female (Top), Male (Bottom)
Photo Credit: Milan Zubrik, Forest Research Institute – Slovakia, Image 1370017. Forestryimages.org
https://fyi.extension.wisc.edu/gypsymothinwisconsin/life-cycle-and-biology-3/life-cycle/
2 – Adult moths (Left: Male, Right: Female)
Photo Credit: USDA APHIS PPQ Archive. Image 2652079. ForestryImages.org
https://fyi.extension.wisc.edu/gypsymothinwisconsin/life-cycle-and-biology-3/life-cycle/
3 – Spongy Moth egg masses with a half dollar coin
Photo credit: Kirsten Lyons, Columbus Twp., February 2021
4 – Spongy Moth caterpillars on hiding band
Photo credit: Patty Troy, Clyde Twp., June 2021
What's next? The caterpillars will pupate, forming a brown, approximately one and a half (males) to two and a half-inch (females) long cocoon around themselves, emerging as adult moths about two weeks later. The moths will mate, lay egg masses and die. The egg masses will persist until next spring, when they will hatch as tiny caterpillars and start the life cycle again. Cocoons, female moths (which cannot fly), and egg masses could be anywhere you've found caterpillars. Male moths, with their lovely, feathery antennae, will find pheromone-emitting females and fly to them to mate. Lap siding, rough tree bark, stacks of firewood, and RV's seem to be favored locations for egg mass laying. Some of these help to explain how Gypsy Moth gets its name. As if "ballooning" caterpillars weren't enough to spread them, all life stages also get around by hitching a ride on campers or other mobile objects, and new infestations are often started unwittingly by recreationists. Don't be one of them.
About those hiding bands…and egg masses. We recommend leaving your burlap hiding bands in place to encourage moths to lay their egg masses there, making them easy to spot during fall egg mass surveys and LATER egg mass scraping (after January 1st). Remember, egg masses must be present to be counted in egg mass surveys. Egg mass surveys are used to determine where cooperative management actions, such as aerial sprays, should be implemented. Unless they're on something you plan to relocate, it's also important to leave egg masses in place until early spring so that the natural enemies that prey on eggs can feed on them, reducing the numbers of viable eggs and allowing the natural enemies to complete their life cycles.
Report the furry little monsters! If you haven't already reported your infestation to the St. CLair County Spongy Moth Program website, please do so now so they can gauge the extent, locations and severity of this community challenge. The online form will ask for your name, address, email, phone number, abundance/density/health of caterpillars, number of egg masses, acres of property and amount of defoliation. This information will be needed for later defoliation and egg mass surveys. We further encourage you to report your observations on the Midwest Invasive Species Information Network (MISIN) website or smartphone app (www.misin.msu.edu/). That shows natural resources agencies, researchers, and citizen scientists how the infestation is unfolding across the state and region and how we're comparing locally.
In August 2021, Friends of the St. Clair River was contracted by St. Clair County to re-launch the Spongy Moth Program across the county.  Reach out to us at www.scriver.org with questions and for more information.
(This article was originally written and published by Kirsten Lyons, Friends of the St. Clair River Spongy Moth Coordinator, on June 24, 2021. The article was updated by Sheri Faust on June 12, 2022 to reflect the Spongy Moth name change (formerly Gypsy Moth) and the 2022 program updates. Thanks to Kirsten for providing the content for this article).
Do you have nature stories or observations you'd like to share? Leave us a comment!