Are creeping caterpillars spoiling your early summer fun or harming your trees? Spongy Moth caterpillars are making messes and gobbling tree leaves in many yards, parks and natural areas around St. Clair County.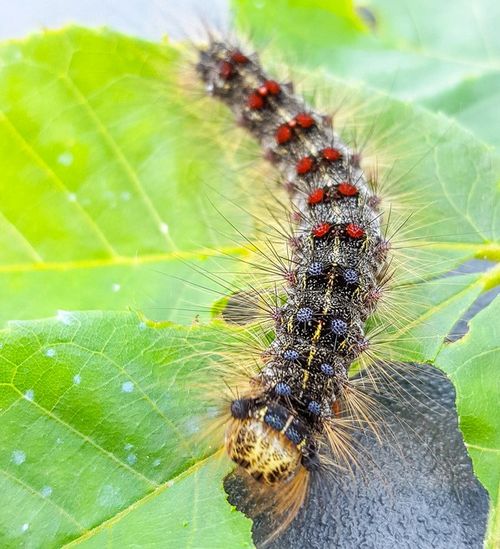 This exotic invasive forest pest was introduced into the U.S. over 150 years ago and has been posing ecological threats ever since. The caterpillars hatch in late spring from egg masses laid the previous fall. The tiny, hairy, hungry caterpillars begin dispersing and feeding as the tree leaves unfurl, and they spend the next few weeks growing into two to three inch long leaf eaters. Their favorite food is oak leaves, although they will feed on many tree and shrub species.
Leaf removal, also known as defoliation, comes at a bad time for the trees–when they've recently spent their energy to flower and leaf out. Most trees and shrubs will have enough health and vigor to put out a fresh set of replacement leaves so that they can photosynthesize and feed themselves once again. Developing this second set of leaves, however, can use reserves that might have been better spent getting through a hot summer, fighting off other pests and stress, expanding root systems, or storing away energy for the winter. Trees and shrubs that are significantly defoliated can be set back or even killed if this happens early in the season for more than a couple of years in a row. It's also a very stressful time for people. The leaf fragments and frass (caterpillar dung) raining down from the trees, loss of shade, and sheer numbers of large hairy caterpillars are enough to drive homeowners and trail users to flee or take cover indoors.
What can you do?
First, don't panic. Like any other pest, Spongy Moth populations are cyclical. While they may be numerous, annoying and destructive at times, eventually they will dwindle. The only stage of the life cycle that's harmful to trees is the caterpillar phase, so most of the damage and aggravation will stop in July as the caterpillars move into their pupal phase before metamorphosing into adult moths and laying egg masses.
Second, take action. Keep your trees and shrubs as healthy as possible and do what you can to reduce caterpillar numbers around your home and outdoor spaces. Water valuable shade trees during hot, dry weather and avoid damaging roots. Consider using hiding bands to protect individual trees or your favorite gathering places. You can check out our hiding band demonstration video here. Flick the caterpillars you find in the bands into a can of soapy water each day to reduce the number of larvae and the amount of frass raining down on your patio. Never handle caterpillars with your bare hands as their urticating hairs may give you a stinging, burning rash.
Third, communicate. If you have caterpillar issues it's likely your neighbors do, too. Share the location of your infestation on the St. Clair County Spongy Moth Program website at www.stclaircounty.org/caterpillars.
Next steps
By late summer, Spongy Moth populations will have laid egg masses that will overwinter to start the cycle all over next spring. St. Clair County contracted with Friends of the St. Clair River to administer the 2022 Spongy Moth Suppression Program. Reach out to us at [email protected] with questions and for more information.
Do you have nature stories or observations you'd like to share? Leave us a comment!
(This original article was written and published on June 3, 2021 by Kirsten Lyons, Friends of the St. Clair River Spongy Moth Program Coordinator. Revisions to the article were made on June 12, 2022 by Sheri Faust to reflect the Spongy Moth name change (formerly Gypsy Moth) and 2022 program updates. Thanks to Kirsten for providing the content for this article.)