Let's Get Outside
Getting outside and applying your knowledge is one of the best ways to learn about Michigan's natural communities and landscape. We have a variety of natural locations throughout the St. Clair River watershed and beyond we recommend exploring. Consider joining us in the field to expand your knowledge of conservation and ecology!
Blueways Trails
Discover this beautiful Blueway trail system along the St. Clair River from Anchor Bay to Port Huron. A Blueway is the river version of a greenway, like a biking and hiking trail. It offers another opportunity to enjoy our area's natural recreation opportunities on the water. This is a joint project between the St. Clair County Metropolitan Planning Commission and the St. Clair County Parks and Recreation Commission.
The Blueways Trails is part of the U.S. National Park Service and in 2013 was the first National Water Trail designated in the state of Michigan . It includes part of the St. Clair River, the Black River, the Black River Canal in Fort Gratiot and a small portion of Lake Huron. It is a 10.2 mile water trail.

The Friends of the Blueways Trails is a committee made up of local historians, geographers and naturalists. The mission of the committee is to educate visitors and local residents on the many facets of this national water trail.

Below is a list of the signs that are installed along the Thomas Edison Parkway along the St. Clair River in Port Huron. Stop by each one to learn more about these topics!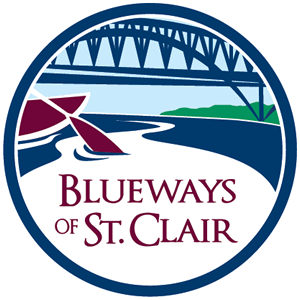 Blueways Trails Interpretive Signs
43rd Parallel
Traversing the River
Fort Gratiot - The Sentinel of the Shore
Giants of the Great Lakes
Sacred Grounds
River Wrecks
The House in the Grove
The "Blue River"
Commerce & Catastrophe
The Island Loop Route
Check out these recreation and self-guided opportunities by clicking on the links below: