Protect the River
The health of the St. Clair River depends on you and me, and the quality of the streams, creeks, drains, ditches and rivers that feed it. What we do on land affects our water. You can help the St. Clair River!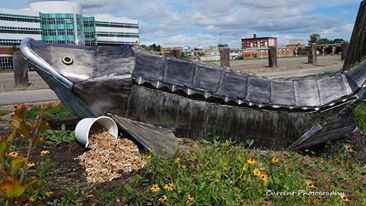 Don't feed geese, ducks and gulls on or near the water and beaches. If you feed them on the beach, they go on the beach. Their waste contains E. coli bacteria.
Clean up after your pet and immediately dispose of it in the trash. Pet waste contains E. coli bacteria too.
Never place anything down a storm drain, including litter, cigarette butts, leaves and grass clippings, fertilizer, chemicals, or oil. Remember, only rain in the drain!
Keep fertilizer and pesticide applications at least 20 feet away from the edges of rivers, streams and storm drains. This keeps algae-causing nutrients like phosphorus and other contaminants out of our waterways.
Never place expired pharmaceuticals down a toilet or sink where they then enter our drinking water supply. Put them in the trash by putting them in a sealable or double bag mixed with coffee grounds or cat litter, or return them to your sheriff's department during a collection day.
Repair defective or failing septic systems. Surfacing sewage is a health concern and sewage runoff makes its way to our beaches during rain storms.
Stabilize streambanks or water's edge with plants native to Michigan, which tolerate our climate, require less fertilizer, resist pests and help reduce erosion.
Participate in stream clean-up events and Adopt-A-Stream days.
Advocate for the river by expressing your concerns at a Binational Public Advisory Council meeting. Citizens are encouraged to attend meetings and the group will be able to answer questions you have about the river's restoration.
Take a walk along the Blue Water River Walk in downtown Port Huron or Marysville's Living Shoreline near Cuttle Creek Golf Course. If you see litter or cigarette butts, pick them up and dispose of them properly.
Report water quality concerns, illegal dumping, or pollution problems anonymously to the St. Clair County Water Quality Hotline, 24-hours a day, at 810-987-7253.