Fall in the Forest: Using Our Senses for Science & Stewardship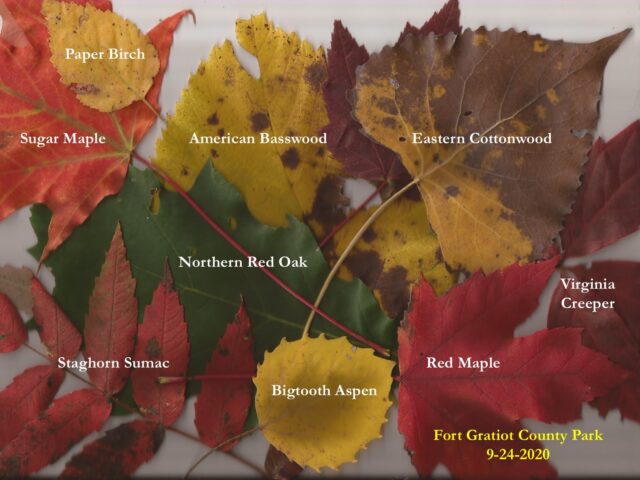 Cool nights and colorful foliage are highlights of fall in the forest. Use all of your sensory power to explore on your own or join the Friends of the St. Clair River in the field to scout for Michigan watch list and invasive species; restore native plant and wildlife habitats; and experience the diversity of our thriving ecosystems.
Sight: Quickly assess the diversity of your favorite forest by creating a leaf collage. Pick up the most colorful leaves and choose as many different leaf shapes and colors as you can find. Identify the species using an app, field guides, and your own experience. Arrange your leaves, photograph, and add labels. The more native species in your collage, the more diversity in your forest. Native diversity helps a forested ecosystem stay resilient to stresses such as invasive species and climate change.
Sound: Leaves crunching underfoot, babbling brooks, and calls of migrating birds are welcome sounds of the season. A few forest understory plants make wonderful whispers if you listen carefully. Natives Jewelweed and Jumpseed are two examples of plants you can hear in the fall hurtling themselves into the future as their seed capsules explode, propelling them distances of several feet and sounding a bit like a tiny three-second rain shower as the seeds tumble down on the surrounding foliage.
Taste: Fall in the forest can mean tasty treats from mushroom foraging, pine needle tea, and many delicious nuts and berries. Take good care to identify any species you plan to eat or drink, make sure you have permission to harvest, and do so in a manner that won't harm yourself or others. Chinese Yam sounds yummy, but if you think you've found it in the wild, it's cause for concern as this watch list invasive vine can quickly engulf and overwhelm a forest.
Touch: Shagbark Hickory, Black Cherry, and Paper Birch are examples of common tree species easily identified by their textured bark. As you're feeling your way around the fall forest, you might encounter egg masses of gypsy moth, an invasive insect that's made a resurgence in Michigan recently. New Gypsy Moth egg masses will be firm to the touch, while an old one will be mushy. Wear gloves, since you could have an itchy reaction to the fuzzy masses.
Smell: Damp earth, wet leaves, and campfires are celebrated aromas of autumn. Enjoy the fresh fragrances of fall in the forest, some of which can even be used to help identify plants! Leaves of the native Black Walnut tree, for instance, have a pleasant herbal odor when crushed, whereas those of the lookalike invasive Tree of Heaven smell like rancid peanut butter.
Your senses await!
​​_______________________________________________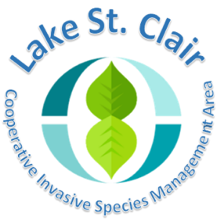 The Lake St. Clair CISMA is funded by the Michigan Invasive Species Grant Program.